Free-Range Chicken Bone Broth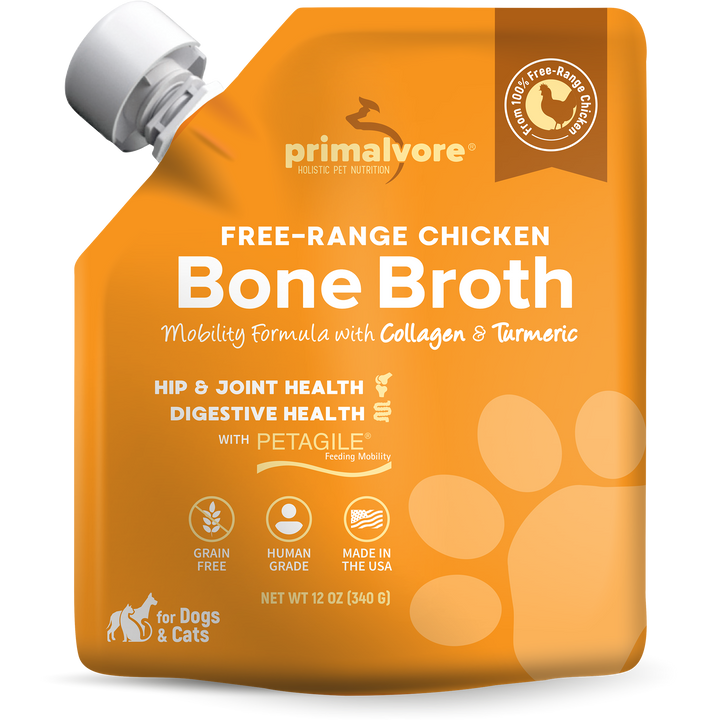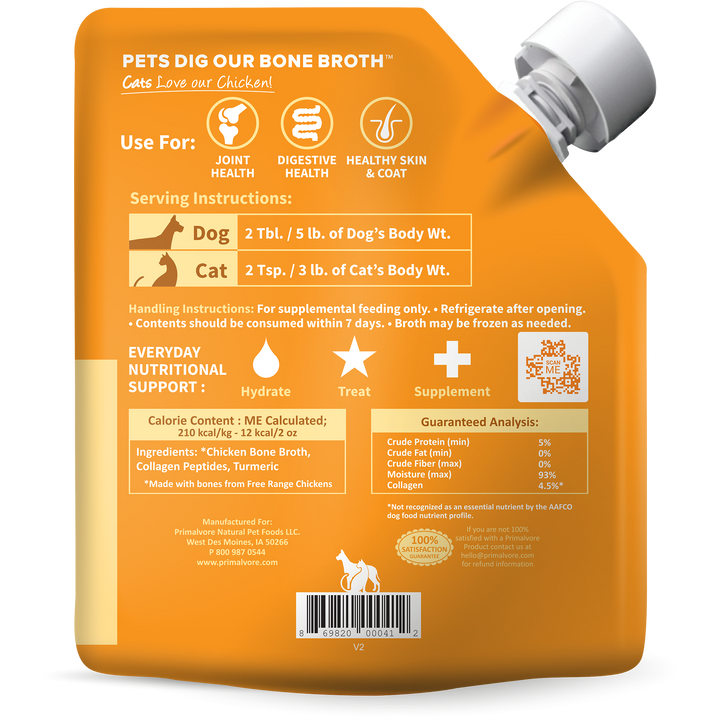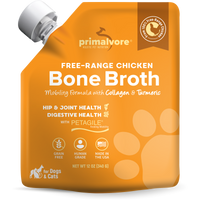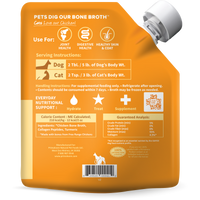 Free-Range Chicken Bone Broth
Our nourishing bone broth is made with only 3 amazing ingredients!

- Broth from Slow Simmered Bones (grass-fed beef, organic free-range chicken or farm raised natural duck)
- Highly functional and clinically tested collagen peptides
- Ground Turmeric Root
Dog - 2 tbl. for every 5 lb. of pets body weight
Cat - 2 tsp for every 3 lb. of pets body weight

Serve up to twice daily. Always remember to start with less when introducing to a pet for the first time.

Calorie Content: ME Calculated 210 kcal/kg - 12 kcal/2 oz.

Crude Protein (min) 5% | Crude Fat (min) .0% | Crude Fiber (max) 0% | Moisture 93% | Collagen 5% (not recognized as an essential nutrient by the AAFCO dog food nutrient profile)
Shelf life unopened - 18 months at room temperature. Quality is best when stored in a cool, dark panty or cupboard.

Refrigerate after opening, serve within 7 days after opening for best quality. Do not serve after 10 days of opening.

Freeze our broth in cubes for convenient portion control. Frozen broth is good for up to 1 year after freezing.
❤️ GOOD FOR PETS AT ALL LIFE STAGES
Great for puppies, adult, or older senior dogs, whether big or tiny your pup can use our nourishing bone broth can be used for a variety of things, including a nourishing kibble topper, refreshing fortified beverage, or rehydrating freeze-dried pet food. Cats love our bone broth too!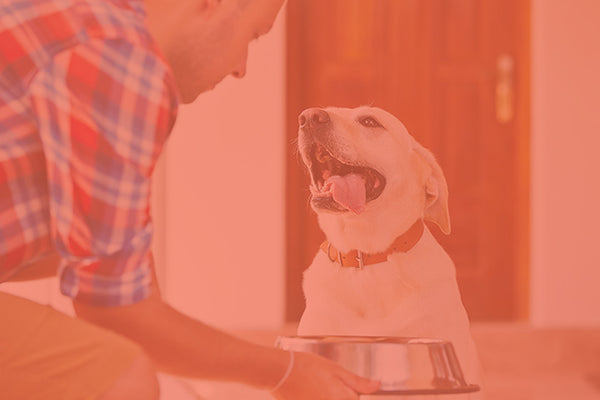 ❤️ GENTLY SUPPORTS MOBILITY & DIGESTION
As your pet ages, instead of harsh medications, this gentle broth is a good source of collagen peptides and minerals your pet needs. The diet for your dog or cat is going to get a boost with this marrow infused healthy food topper to provide additional support for dogs with tummy issues like upset stomachs, diarrhea, gas, and irregularity in bowel movements.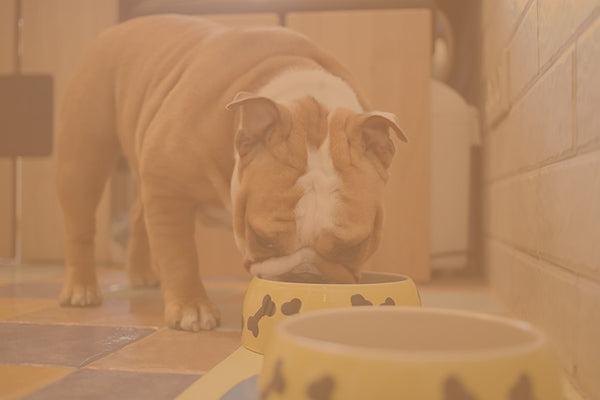 ❤️ A GOOD SOURCE OF PROTEIN & HYDRATION
Sensitive stomachs may just have a leg up with our primal three-ingredient broth with organic turmeric as an anti-inflammatory antioxidant. For wet or dry foods. Great for dogs on the raw food diet. Serve with your pet's meal or as a hydrating snack to keep your pet at optimal hydration levels and prevent them from getting dehydrated. Salt-free formula with no garlic, onions, or ingredients that could be harmful on your puppy's stomach.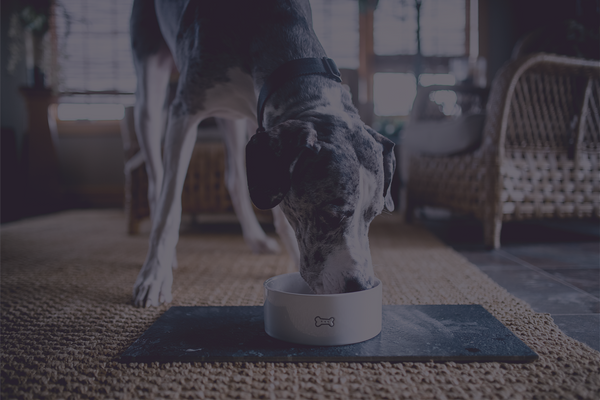 Pet Parents Dig Primalvore too
Here's Why...
🇺🇸 SOURCED AND PRODUCED IN THE USA
Backed by our satisfaction guarantee; If for any reason you or your pet is unsatisfied with our premium natural pet bone broth, please contact us within 30 days for a full refund.