Ingredients Matter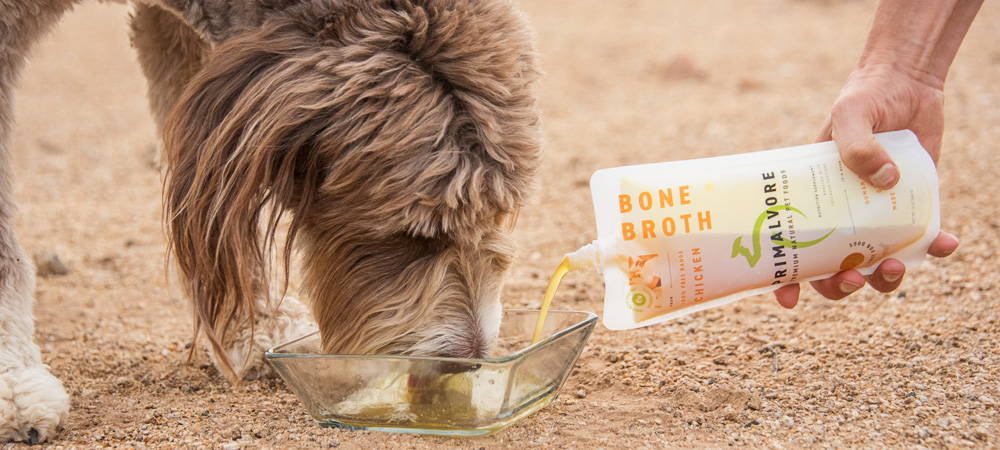 At Primalvore we are firm believers in 'less is more'. By using only premium, human grade, functional ingredients we minimize the risk of activating an allergy or challenging digestive issue in your beloved pet. We are dedicated to only producing products that add vitality, health and longevity to your pet through good nutrition.
Organic Bone Broth
Our recipe starts with bone broth that is a simple mix of blend of Certified Organic bones that are dense in marrow and cartilage. This is where you get the naturally occurring collagen and minerals (learn more about our cooking process).

Collagen Peptides
We take pride in the addition of a specific group of collagen peptides which are backed by a clinical study to show improved mobility in aging dogs and can help maintain healthy joints in dogs of all life stages. Collagen peptides are the most bio-available form of restorative collagen.

Organic Turmeric
We use only certified organic turmeric in our bone broth. To make our broth we add our collagen and organic turmeric at the end of our cook process to make sure all the goodness remains and is not cooked out during the slow simmer process.
Sourcing
It all starts with sourcing. The suppliers we use are all licensed to raise and process human grade ingredients with full traceability programs in place. We can even trace the bones back to the farm they were raised!

Certifications
All of our suppliers are state and operate under USDA/FDA inspections and guidelines. They are also certified to process "human grade" and "organic" ingredients. Our suppliers are audited every year via 3rd party and are SQF certified and that matters too.

SQF is a Global Food Safety Initiative (GFSI) benchmarked standard, which means that it is recognized world-wide as a reputable food safety certification.
Our partner group is made up of pet lovers with diverse backgrounds that include the culinary arts, natural product development, medicine and finance. The inspiration to combine our given talents to create the first organic bone broth for dogs.